Material and energetic use of biomass
Foto: ATB
Biobased materials and energy for the bioeconomy
The aim of this research programme is to develop both efficient technology and processes for the provision of biogenic materials and energy sources from agriculture for a sustainable, bio-based economy.
Fibre plants and short-rotation coppices (SRC) can be mechanically processed into innovative products and energy sources. Plants containing sugar and starch as well as their residues provide lactic acid, biochar and biogas by means of thermal and biotechnological material conversion processes. It is important to better understand and control the specific metabolic performance of the microorganisms involved.
Together with industrial partners we are developing biorefinery and cascade concepts, based on the comprehensive use, in order to add value of biogenic raw materials and residues.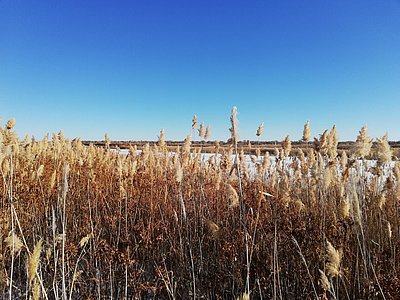 Natural resources from agriculture and forestry as well as residual and waste materials from other utilization paths have been used for the production of materials and consumer goods for a long time before the industrial revolution. Fossil raw materials then largely displaced these, but their scarcity, increase in price and the impairment of natural living conditions associated with their use require an intensive and targeted search for alternatives. If fossil carbon sources are no longer available in the future, the corresponding basic materials must be obtained from biomass.
In addition, the requirements of today's industrial processing and the expectations of consumers require a high degree of effectiveness, raw material and product quality as well as cost efficiency. This places high demands on the development of agricultural supply processes and the subsequent technologies and processes for the preparation and initial processing of plant biomass.
Within the framework of interdisciplinary projects, we work intensively on appropriate solutions. In our research we closely cooperate with small and medium-sized enterprises in particular with the aim of creating alternative employment and income in rural areas and creating added value in branches relatetd to agriculture.
The biotechnological material conversion as well as the carbonization of renewable raw materials and technologies for the processing of natural fibres are important fields of activity of the ATB.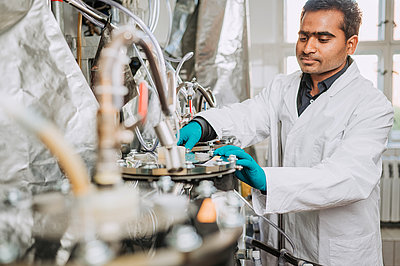 In addition to tapping previously unused residual and waste materials from agriculture, the food industry and private households, annual and perennial plants play a very important role as renewable raw materials in the production of bioenergy in Germany. Although alternative energy generation options such as photovoltaics, solar thermal and wind power have a higher efficiency per unit area, the use of biomass is superior due to its cascading utilization possibilities.
For this reason, we have been successfully developing concepts that affect the entire process chain for many years. This begins with the cultivation of annual and perennial energy crops and extends to their harvesting, storage and conversion into biogas, biochar and other solid fuels, as well as the comprehensive evaluation of these processes. The main areas of research within the scope of this process evaluation are emissions from short rotation plantations, the calculation of greenhouse gas abatement costs and the networking of value chains.