Diversified crop production
Photo: ATB
Research for an environmentally controlled, diversified crop production
We develop technologies and processes for agricultural crop production. In the bioeconomy, plant biomass not only provides food and feed, but is also the basis for biobased materials and energy. With our research, we follow the concept of an environmentally controlled, highly diversified agroecological production. In doing so, we take advantage of the Digital Transformation and support the transition from precision agriculture to an "Diversity by Precision" approach.
Biodiversity loss is currently one of the most pressing problems worldwide. The mixed cultivation of different crops on the same area, i.e. the interaction of a wide variety of plants, animals and microorganisms in so-called inter- or mixed cropping systems, has many advantages, including improved resilience and higher overall yields.
The agile management of such diverse and complex production systems requires adaptation of machinery, sensors, control systems, algorithms, and especially of management strategies. The systemic approach to circular farming also requires a better understanding of the microbiome and its interactions within agricultural systems.
Our research addresses the development of smart sensors for the digital assessment of environmental conditions and plant status as well as methodological issues of intelligent image analysis. These digital methods are expected to contribute decisively to advancing sensor-based process control and automation as a prerequisite for the complex control systems of a circular bioeconomy.
A central task is the development of digital twins for knowledge-based, precise, dynamic and adaptive process control of these very complex systems.
For our research, we benefit from the ATB Fieldlab for Digital Agriculture in Marquardt with a test track for soil sensors and an installation for automated data acquisition in fruit tree cultures. In addition, research work will also be implemented in the Leibniz Innovation Farm at Groß Kreutz (currently under construction).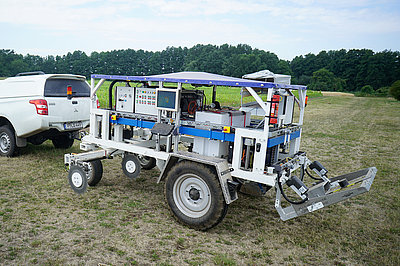 The research focus is on the further development of proximal soil sensor technology in order to be able to digitally record all information relevant for sustainable crop production, and on the development and application of biological sensor systems for analyzing soil health. Our objective is the sustainable use and improvement of the soil.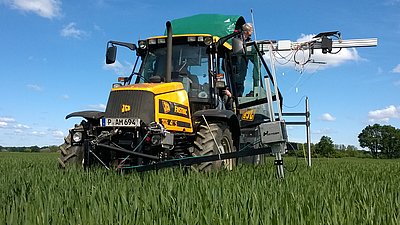 Our research focus is on a precise plant monitoring by using especially optical sensor systems like LIDAR or multispectral cameras - both in agriculture and in horticulture. Data from in-situ, proximity and remote sensing provide information on the status of plants as well as pathogens or pests. The aim of a precise plant monitoring is to design plant protection in an environmentally friendly way and to secure the food supply by strengthening plant health.
Digitization and robotics are to support diversity in agriculture in the long term as reliable control systems. Our research focus is on the identification and development of assistance systems as well as on automated and field robotics applications. Simulation and IoT technologies are used to develop and improve digital twins, highly automated field sensor systems, field machines and field robotics.
System analysis and assessment