Our research projects
Photo: Manuel Gutjahr
Project
Title
Entwicklung eines innovativen Waschverfahrens für frischen Schnittsalat auf Basis der nicht-thermischen Plasmatechnologie zur Erhöhung der Produktsicherheit, -qualität und Nachhaltigkeit (SPLASH)
Coordinating Institute
Leibniz-Institut für Plasmaforschung und Technologie e.V.
Partner
Kronen GmbH
Gartenfrisch Jung GmbH
Allocated to research program
Summary
Cold Plasma processes represent a particularly interesting technical solution for the post-harvest treatment of fresh produce such as cut lettuce, since the variety of mechanisms of action generated on the one hand results in a broad spectrum of action and on the other hand makes it considerably more difficult for the microorganisms to adapt to the process and this is not yet known. The subject of the planned project is the development of a sustainable, resource-saving washing process for fresh cut lettuce using plasma-treated water (PTW) and the detection of toxicological and sensory changes in freshly cut and washed lettuce after a non-thermal decontaminating plasma treatment. The aim is to maintain or optimise the transport/storage capability of the products and to investigate the disinfection efficiency in the washing water. The results will be used in a demonstration plant.
Funding
Bundesministerium für Ernährung und Landwirtschaft (BMEL)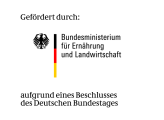 Funding agency
Bundesanstalt für Landwirtschaft und Ernährung - Projektträger

Funding framework
Programm zur Innovationsförderung des BMEL