Our research projects
Photo: Manuel Gutjahr
Project
Title
Vernetzung bioeffizienter physikalischer Detektions- und Prozessierungsmodule zur nachhaltigen Reinigung und Desinfektion in der Lebensmittelproduktionskette. TP 1 (PROMONA)
Coordinating Institute
Leibniz-Institut für Agrartechnik und Bioökonomie e.V. (ATB)
Partner
Leibniz-Institut für Plasmaforschung und Technologie e.V.
Walter Gerätebau GmbH
Silicann Systems GmbH
Allocated to research program
Summary
Microbial contaminants can occur along the entire food value chain, but are a potential danger, particularly in the area of internal process hygiene, due to possibly unrecognized cross-contamination. The use of disinfectants in the cleaning of processing plants is a challenge in both storage and disposal. Highly polluted wastewater can lead to environmental problems. Some disinfectants can also lead to material damage to the conveyor belts and thus represent an optimized surface for the formation of biofilms. Within the framework of the planned project work, the application of spectral optical contamination detection methods with a tailor made influence through the use of plasma technology will be coupled by way of example for different production routes in the food sector (fresh plant and animal products). Thus, in the sense of sustainable production, the process technologies can be optimally aligned for efficient energy and material cycles, ie the realization of tailor-made hygienisation along the production chain "on demand".
Funding
Bundesministerium für Ernährung und Landwirtschaft (BMEL)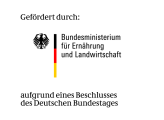 Funding agency
Bundesanstalt für Landwirtschaft und Ernährung - Projektträger

Funding framework
Richtlinie über die Förderung von Innovationen zur sicheren, ressourcenschonenden und nachhaltigen Lebensmittelherstellung