Our research projects
Photo: Manuel Gutjahr
Project
Title
Kurzumtriebsplantage zu Acker: Bewertung der C-Senkenfunktion im Boden, der Umweltwirkung, der Ertragsfähigkeit und der Bodenqualität nach dem Umbruch (Short rotation plantation to arable land: Assessment of the C sink function in the soil, the environmental impact, the yield capacity and the soil quality after conversion)
Coordinating Institute
Leibniz-Institut für Agrartechnik und Bioökonomie e.V. (ATB)
Allocated to research program
Summary
The aim of the joint project is to evaluate the carbon sink function with a focus on deeper soil layers (> 30 cm) as a function of the rotation length of former short rotation plantations and - after their uprooting - to quantify relevant influences on the environment and agricultural production. To this end, the influence of coarse roots on the storage of C in the subsoil will be investigated as a function of the length of the rotation cycle of the previous SRCs. The material discharge in the form of greenhouse gas emissions and C and nitrogen leaching will be recorded and compared with regard to the discharge path. Furthermore, the rooting depths and the yields of the subsequent crops in the first years after conversion .
Funding
Bundesministerium für Ernährung und Landwirtschaft (BMEL)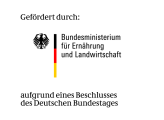 Funding agency
Fachagentur Nachwachsende Rohstoffe e.V.

Funding framework
Nachwachsende Rohstoffe