Our research projects
Photo: Manuel Gutjahr
Project
Title
Optimierte tierspezifische Stallklimatisierung vor dem Hintergrund des Temperaturanstiegs und der erhöhten Klimavariabilität.
Coordinating Institute
Leibniz-Institut für Agrartechnik und Bioökonomie e.V. (ATB)
Partner
Aarhus Universität - UA
Potsdam Institut für Klimafolgenforschung (PIK)
Universidad Politécnica de Valencia
Agricultural Research Organization
Basque Centre for Climate Change
National Centre for Engineering in Agriculture
Summary
The OptiBarn target is to develop region-specific, sustainable adaptation strategies for dairy housing, focusing on an optimised climatisation of naturally ventilated buildings (NVB). NVB are particularly vulnerable to climate change since the indoor climate strongly depends on the extremes and variability of the outdoor climate. Without sound adaptation strategies, increased climate variability will result in a sub-optimal thermal environment in many livestock buildings impairing production and welfare of animals. Appropriate construction methods and management of the buildings can improve the thermal control and provide precise identification of factors affecting the thermal control capacity of the buildings under commercial farm conditions. A team of scientists from Germany, Denmark Spain, Israel and Australia develops indicators for an optimisation of livestock buildings under climate change by: (i) Barn-specific assessment of the influence of outdoor climate on the indoor conditions, (ii) Region-specific risk analysis on how often extreme weather situations will occur, (iii) Monitoring animal-individual stress responses to the indoor conditions, (iv) Development of engineering solutions. (v) Modelling tools to assess environmental and economic effects of adaptation alternatives.
Funding
Bundesministerium für Ernährung und Landwirtschaft (BMEL)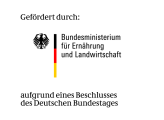 Funding agency
Bundesanstalt für Landwirtschaft und Ernährung - Projektträger

Funding framework
FACCE-ERA-Net+