Our research projects
Photo: Manuel Gutjahr
Project
Title
Innovative und ganzheitliche Wertschöpfungskonzepte für funktionelle Lebens- und Futtermittel aus heimischen Körnerleguminosen vom Anbau bis zur Nutzung. Teilprojekt 6
Coordinating Institute
Universität Hamburg
Partner
Gemeinschaft zur Förderung der privaten deutschen Pflanzenzüchtung e.V.
Universität Hamburg
Deutsches Institut für Ernährungsforschung
Fachhochschule Südwestfalen
Leibniz-Institut für Gemüse- und Zierpflanzenbau, Großbeeren & Erfurt (IGZ)
Technische Universität Berlin
Institut für Lebensmittel- und Umweltforschung e.V.
Youse GmbH
neoplas GmbH
General Mills GmbH
SternEnzym GmbH & Co.KG
tegut... Gutberlet Stiftung & Co.
Kampffmeyer Food Innovation GmbH
Emsland-Stärke GmbH
anona Nährmittel C. L. Schlobach GmbH
Viba sweets GmbH
Allocated to research program
Summary
LeguAN aims at the efficient and market-oriented production of innovative foods and ingredients (semi-finished products) on the basis of native legume species such as pea (pea grains and vegetable pea), and tonka bean. Aim of ATB in work package 3 (Optimized production and technological modification of functional ingredients from selected Legumisosae species) is the innovative use of plasma technologies along the value chain of leguminosae. Inter alia, issues related to the interaction of matrix and process are investigated, including the control of the ingredient profiles during storage as well as the specific modification of product properties during processing. The focus of the work package 4 is the technological evaluation and comparison of methods. The aim is the economic analysis of the potential of different breeding and technical innovations in grain legume value chains. In comparing the different value chains from breeding through to consumer acceptance the work package has a cross-sectional task.
Funding
Bundesministerium für Ernährung und Landwirtschaft (BMEL)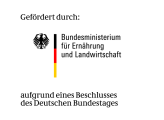 Funding agency
Bundesanstalt für Landwirtschaft und Ernährung - Projektträger

Funding framework
PT Innovationsförderung