Our research projects
Photo: Manuel Gutjahr
Project
Title
Landwirtschaftliche Rest- und Abfallstoffverwertung - Lösungsansätze zur technischen Anpassung bestehender Biogasanlagen für die Nutzung faseriger Reststoffe; Teilvorhaben 2: Prozesstechnische Untersuchungen (LaRa)
Coordinating Institute
Technische Hochschule Ingolstadt
Partner
C.A.R.M.E.N. Centrale Agrar-Rohstoff Marketing- und Energie-Netzwerk e.V.
Allocated to research program
Summary
The aim of the project is the development of solutions for the creation of optimal process and plant conditions for the utilisation of biogenic residues and waste materials in agricultural biogas plants. For this purpose, a comprehensive technical, process and economic analysis and evaluation of a selection of existing biogas plants with a focus on residual and waste fermentation (solid manure, straw, landscape conservation material) is carried out. The investigations include the adaptive dimensioning of plant components and innovative pretreatment techniques for efficient digestion of residual materials. Possibilities for the conversion to the use of residual and waste materials as well as associated effects on substrate properties, degradation efficiency, wear behaviour, plant periphery, economic factors including upstream and downstream added value are determined and recommendations for action are derived.
Funding
Bundesministerium für Ernährung und Landwirtschaft (BMEL)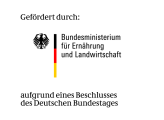 Funding agency
Fachagentur Nachwachsende Rohstoffe e.V. (FNR)

Funding framework
Förderprogramm Nachwachsende Rohstoffe, Förderaufruf Stärkung der landwirtschaftlichen Restund Abfallstoffverwertung für die Biogaserzeugung