Our research projects
Photo: Manuel Gutjahr
Project
Title
Sensorgestützte online Detektion von Krankheiten im Getreide. Teilprojekt 1.
Coordinating Institute
Leibniz-Institut für Agrartechnik und Bioökonomie e.V. (ATB)
Partner
Agri Con GmbH
TOSS Intelligente Messtechnik und Automatisierungs GmbH
Allocated to research program
Summary
Aim of the projekt is the development of a suitable technology for the early detection of yellow rust patches in wheat. Optical vehicle- and UAV-carried sensors will be tested. For a disease related control decision by the farmer beside the information of the disease also information of various plant parameters like crop surface and plant height are necessary. This is important for the assessment of the target area for the spray liquid and the yield expectation. The used sensors produce huge amount of georeferenced data. This data have to be analyzed for supporting control decisions of the farmer and have to manage for later usage. A data management system based on the existing sytsem Agroport of the company Agri Con will be developed.
Funding
Bundesministerium für Ernährung und Landwirtschaft (BMEL)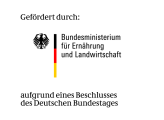 Funding agency
Bundesanstalt für Landwirtschaft und Ernährung - Projektträger

Funding framework
Big Data in der Landwirtschaft - Innovationsförderung