Our research projects
Photo: Manuel Gutjahr
Project
Title
Verbundprojekt: Individualisierte und züchterische Hitzestressprävention mittels Digitalisierung in der Milchkuhhaltung (DigiMuh)
Coordinating Institute
Leibniz-Institut für Agrartechnik und Bioökonomie e.V. (ATB)
Partner
Martin-Luther-Universität Halle-Wittenberg
smaXtec GmbH
Dr. Hornecker Software-Entwicklung und IT-Dienstleistungen
Wille Engineering
Förderverein Bioökonomieforschung e.V.
Allocated to research program
Summary
The aim of the project is the individualised and breeding-based prevention of heat stress in dairy cows with the help of the development of an early warning system and a health monitoring system that alerts the farmer in the event of illness or the onset of heat stress. Animal-specific recommendations for action and management decisions regarding timely countermeasures are displayed to the farmer. The goal is to develop a ready-to-use prototype of the application software for the selected pilot farm.
Funding
Bundesministerium für Ernährung und Landwirtschaft (BMEL)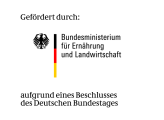 Funding agency
Bundesanstalt für Landwirtschaft und Ernährung (BLE)

Funding framework
Programm zur Innovationsförderung des BMEL: Förderung von Innovationen zur Digitalisierung in der Nutztierhaltung