Our research projects
Photo: Manuel Gutjahr
Project
Title
Entwicklung eines Verfahrens zur selektiven Körnergewinnung von Sonderkulturen mit besonderen Anforderungen bei der Sicherstellung von komplexen Qualitätsanforderungen. TP: Entwicklung der prozess- und verfahrenstechnischen Grundlage für die gezielte Samengewinnung bei Sonderkulturen (Beispiel Hanf) während der Schwadbearbeitung.
Coordinating Institute
Leibniz-Institut für Agrartechnik und Bioökonomie e.V. (ATB)
Partner
Kranemann Gartenbaumaschinen GmbH
Allocated to research program
Summary
Currently known and practiced procedures for the harvest of the industrial hemp - especially for the additional recovery of seeds - do not fulfil the requirements regarding: o acreage performance within the weather dependend short harvesting period o efficiency of yield respectively the amount of seed loss o procedure costs including post harvest operations o quality of harvested seeds. This is applied especially under the regional and climate conditions of northern areas in Germany and Europe. An optimum harvest date can be reached by ripening of the seed heads after mowing and temporary deposition of the crop in swaths on the field. Yield losses by drop out of over ripened resp. not yet ripened seeds can be minimized. The project aims at the development of a technical device by which the collection of seeds will be enabled within the anyway necessary process step of swath turning. The technical principle and thereof the device will be based on recent developments and experiments. It will be evaluated by lab based as well as field tests.
Funding
Bundesministerium für Wirtschaft und Technologie (BMWi)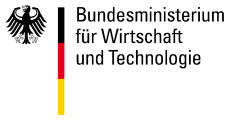 Funding agency
Arbeitsgemeinschaft industrieller Forschungsvereinigungen "Otto von Guericke" e.V. (AiF)

Funding framework
"Zentrales Innovationsprogramm Mittelstand" ZIM