Our research projects
Photo: Manuel Gutjahr
Project
Title
Development of a smart packaging system - towards better packaging solutions.
Coordinating Institute
Leibniz-Institut für Agrartechnik und Bioökonomie e.V. (ATB)
Summary
Recent research findings have shown that changes in VOCs composition and concentration of modified atmosphere packaged fresh produce occur before visible physical and chemical quality changes take place. This makes monitoring the change in VOCs an effective tool for optimizing packaging solutions of fresh and fresh-cut produce for real-time assessment of postharvest quality. However, further research is required towards the development of in-package indicator mechanism in order to detect evaluation of changes in VOCs. The critical research need is to identify predominant spoilage indicator VOCs/secondary VOCs as well as to select and adopt an appropriate sensor technology. Thus, the aim of this research is to develop a biosensor-based smart packaging system applicable for the fresh-cut fruit industry.
Funding
Alexander von Humboldt-Stiftung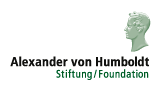 Funding framework
Georg Forster Research Fellowship Programme (HERMES) for Postdoctoral Researchers