Our research projects
Photo: Manuel Gutjahr
Project
Title
Entwicklung eines Mähhackers für die Ernte von Pappeln, Weiden und Robinien; Bewertung des Mähhackereinsatzes und der Hackqualität.
Coordinating Institute
Leibniz-Institut für Agrartechnik und Bioökonomie e.V. (ATB)
Allocated to research program
Summary
Development of a low weight mover-chipper for the harvest 1 to 5-year-old poplars, willows and locust trees from short rotation coppice (SRC). Currently commercial available mower-chippers for energy wood from SRC based on forage harvesters are very expensive in machine mass and investment costs. Furthermore, harvest operations are difficult on inclined fields or soft soils as well as large fields are required for economic harvest. For efficient harvest of SRC under changeable praxis conditions, a novel principle of a tractor-based mower-chipper was developed, characterized by a simple construction and wide range of applicability. Based on a new patent-pending concept, a prototype has been designed at ATB and is tested with a partner from industry at present.
Funding
Bundesministerium für Wirtschaft und Technologie (BMWi)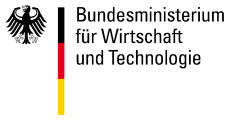 Funding agency
Arbeitsgemeinschaft industrieller Forschungsvereinigungen "Otto von Guericke" e.V. (AiF)