Our research projects
Photo: Manuel Gutjahr
Project
Title
Künstliche Intelligenz zur Erfassung der Atmung bei Milchkühen
Coordinating Institute
Leibniz-Institut für Agrartechnik und Bioökonomie e.V. (ATB)
Partner
Stiftung Universität Hildesheim
Lehr- und Versuchsanstalt für Tierzucht und Tierhaltung e.V.
dida Datenschmiede GmbH
Allocated to research program
Summary
Using AI technologies and unlocking their potential opens up new opportunities to sustainably intensify milk production and use resources efficiently and competitively. AI tools and data-based applications enable a better understanding of complex interactions between the husbandry environment and the animals living in it. Animal welfare and health are improved, performance potentials are exploited and the use of medication is reduced. The project Artificial Intelligence for Detecting Respiration in Dairy Cows (KAMI) is developing a prototype for automated, image-based, individual detection of respiration in cows. Respiration is one of the most sensitive parameters for vitality and health and indicates deviations from the normal state at an early stage. Until now, respiration can neither be recorded individually for each animal and without contact, nor can it be evaluated and translated into recommendations for action.
Funding
Bundesministerium für Ernährung und Landwirtschaft (BMEL)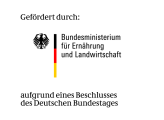 Funding agency
Bundesanstalt für Landwirtschaft und Ernährung (BLE)