Our research projects
Photo: Manuel Gutjahr
Project
Title
Innovationsnetzwerk Rind - zukunftsfähige Rinderhaltung in Deutschland unter Berücksichtigung von Tierwohl, Umweltwirkungen und gesellschaftlicher Akzeptanz
Coordinating Institute
Christian-Albrecht-Universität zu Kiel
Partner
Landwirtschaftskammer Nordrhein-Westfalen
Landwirtschaftskammer Schleswig-Holstein
Johann Heinrich von Thünen-Institut, Bundesinstitut für Ländliche Räume, Wald und Fischerei
Landesforschungsanstalt für Landwirtschaft und Fischerei Mecklenburg-Vorpommern
Georg-August-Universität Göttingen
Hochschule Rhein-Waal
Bayerische Landesanstalt für Landwirtschaft (LfL)
Lehr- und Versuchsanstalt für Tierzucht und Tierhaltung e.V.
Gut Dummerstorf GmbH
Bayerische Staatsgüter
Allocated to research program
Summary
The joint project lnnoRind (here: funding phase 1) aims to establish an innovation network for cattle farming that uses the expertise of the project participants to develop innovative approaches for sustainable cattle farming in Germany. These approaches should, on the one hand, improve animal welfare and, on the other hand, reduce negative environmental impacts, but at the same time also include the labour situation as well as the profitability of farms and the wishes of consumers in the concepts to be developed. The main topics of the planned innovation network are, among others - cow-based calf rearing, - alternative fattening and marketing methods to address the sales problem of male dairy calves, and - the transit period and the balancing of environmental effects in the dairy barn.
Funding
Bundesministerium für Ernährung und Landwirtschaft (BMEL)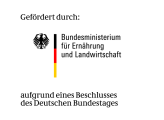 Funding agency
Bundesanstalt für Landwirtschaft und Ernährung (BLE)

Funding framework
Bundesprogramm Nutztierhaltung