Our research projects
Photo: Manuel Gutjahr
Project
Title
Biokatalysatoren in Bioreaktoren: Monitoring, Regelung und multikriterielle Optimierung von Biogasprozessoren; Teilvorhaben 2: Systemmikrobiologie
Coordinating Institute
Leibniz-Institut für Agrartechnik und Bioökonomie e.V. (ATB)
Partner
Humboldt-Universität zu Berlin
Universität Bielefeld
Allocated to research program
Summary
Main aim of this research project is the characterization of the microbial metabolic activities in semi-continuously operated biogas fermenters by the detection of predominant occurring microbial proteins and enzymes. The results of this study will be used for the development of strategies to support the microbial hydrolysis of renewable resources by multi-criteria optimization. In particular, the targeted addition of supplementary enzymes of fungal origin complementary to the endogenic hydrolytic potential present in the biogas fermenters will be analyzed. In sub-project II, analyses of the microbial systems present in the biogas fermenters operated in sub-project I will be conducted. Aim of sub-project II is the determination of the microbial community structure at taxonomic and functional level, the monitoring of alterations in the structure during the ongoing fermentations with special focus on the process variations, and the detection of variations in the metabolic activity of the microbial community.
Funding
Bundesministerium für Ernährung und Landwirtschaft (BMEL)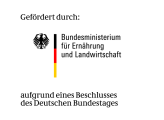 Funding agency
Fachagentur Nachwachsende Rohstoffe e.V. (FNR)

Funding framework
Sondervermögen "Energie- und Klimafonds"