Our research projects
Photo: Manuel Gutjahr
Project
Title
Effizienzsteigerung und Emissionsminimierung von Biogasanlagen bei gleichzeitiger Reduktion der Anlagenkomplexität durch innovative Gastrennverfahren
Coordinating Institute
Fraunhofer-Institut für Angewandte Polymerforschung (IAP)
Partner
Fraunhofer-Institut für Angewandte Polymerforschung (IAP)
KS Kunststoffbau GmbH
Allocated to research program
Summary
The aim of the joint project bio4value is to develop new types of gas separation membranes and membrane modules for more efficient biogas processing. The aim is to achieve a high quality of the separated material flows and the applicability of the gas separation process also for small upgrading plants. For the producibility of these novel gas separation membranes, a modular membrane drawing plant is being developed, with the help of which the membrane production can be specifically adapted to different separation tasks. For tests under industrial conditions, the membranes will be inserted into specially developed modules to enable their use in existing biogas plants. Based on the chemical leasing concept, the membranes will also be recycled and a resource conservation cycle will be established, which will minimise the release of microplastics into the environment from membrane waste in the future. Within the framework of the project, ATB will carry out an economic and ecological evaluation of the developed membrane separation process, including an assessment of the technical risk.
Funding
Bundesministerium für Ernährung und Landwirtschaft (BMEL)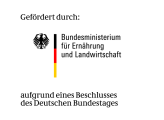 Funding agency
Fachagentur Nachwachsende Rohstoffe e.V.

Funding framework
Nachwachsende Rohstoffe