Our research projects
Photo: Manuel Gutjahr
Project
Title
Plasma-basierte Dekontamination von trockenen pflanzlichen Produkten zur Erhöhung der Lebensmittelsicherheit
Coordinating Institute
Leibniz-Institut für Agrartechnik und Bioökonomie e.V. (ATB)
Partner
Leibniz-Institut für Plasmaforschung und Technologie e.V.
Cziotec Industrie-, Umform- und Werkzeugbautechnik GmbH
Köhl Maschinenbau GmbH
First Sensor AG
Allocated to research program
Summary
Plasma-based decontamination of dried plant-related products for an enhancement of food safety (³Plas). The application of low temperature plasmas (NTP) opens up fundamentally new possibilities for food production. The objective of the proposed research project is to ensure the safety of dry products through the use of NTP, while maintaining product quality. Besides the microbiological safety this includes the physico-chemical assessment of the treated products. Subsequent to the identification of the optimal plasma source and definition of relevant treatment parameters, a prototype will be built and tested on a pilot scale regarding practicality. Via cooperation with business enterprises, the integration of the developed technical solutions for practical operation is supported. For the implementation of the overall project, two major plot lines are: i) process design and technical implementation in pilot scale (INP Greifswald, KÖHL Maschinenbau GmbH and CZIOTEC); ii) process monitoring and product safety (ATB Potsdam, First Sensor AG). Both sub-projects are carried out in close interaction between industry and research partners, thereby a high practice relevance of the solutions is ensured. Among others, wheat grains, wheat flours and medicinal plants (e. g. chamomile) will be exemplary test products for the research study on tailored plasma processes.
Funding
Bundesministerium für Ernährung und Landwirtschaft (BMEL)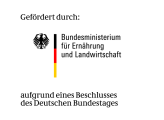 Funding agency
Bundesanstalt für Landwirtschaft und Ernährung - Projektträger

Funding framework
Innovationsförderung