Our research projects
Photo: Manuel Gutjahr
Project
Title
Demonstrationsbetriebe Integrierter Pflanzenbau, Modellregion Brandenburg.
Coordinating Institute
Julius Kühn-Institut, Institut für Strategien und Folgenabschätzung
Partner
Landesbauernverband Brandenburg
Landwirtschaftskammer Nordrhein-Westfalen
Dienstleistungszentrum Ländlicher Raum Rheinhessen-Nahe-Hunsrück
Julius Kühn-Institut, Institut für Strategien und Folgenabschätzung
Allocated to research program
Summary
The BMEL-funded model and demonstration project Demonstration farms of integrated crop production (MuD IPB) addresses technical and production-related fields of action of the Arable Farming Strategy 2035 of the Federal Ministry of Food and Agriculture (BMEL). Over the next three years, innovative and practicable new measures and procedures will be implemented and demonstrated at the practical level in three model regions (Brandenburg, North Rhine-Westphalia, Rhineland-Palatinate) in farm networks that are to be newly developed. Without funding, these measures and procedures would not (or only with a considerable delay) be introduced into agricultural practice. In particular, interdependencies between the fields of action as well as aspects relevant to climate protection and climate adaptation are taken into account within the framework of a system-oriented approach. Scientific findings and experience are to be transferred directly to the level of primary production, and proven knowledge is also to be incorporated. In the model region of Brandenburg, ATB and the Brandenburg State Farmers Association (LBV) are jointly setting up a model farm network (MuD IPB-NeuLandBB) and supporting the farms in establishing and demonstrating the crop management measures, in collecting data and in securing/documenting the results and experiences. Crop production measures are established and demonstrated that are particularly adapted to the typical regional conditions and address several fields of action of the Arable Farming Strategy 2035: - Cultivation of grain legumes (chickpeas, lentils) and fibre crops for multiple use (hemp, continuous silphia) / field of action crop diversity and crop rotation - Sensor-based nutrient and humus monitoring / Digitalisation field of action - Precise liming and precise N fertilisation / Fertilisation field of action - Mechanical weed control by hoeing and harrowing and precise plant protection / Plant protection field of action The Leibniz Innovation Farm for Sustainable Bioeconomy, located at the site of the Lehr- und Versuchsanstalt für Tierzucht und Tierhaltung (LVAT) in Groß Kreutz, will demonstrate several of the planned measures as a MuD farm in the NeuLandBB project. ATBs task is to identify the latest scientific findings relevant to the project, prepare them for practical implementation on the demonstration farms, incorporate them into the transfer events and information materials, and in particular support the digital transfer formats with its experience. The overall coordination and evaluation of the three MuD-IPD model regions is carried out by the Julius Kühn Institute, Institute for Strategies and Impact Assessment.
Funding
Bundesministerium für Ernährung und Landwirtschaft (BMEL)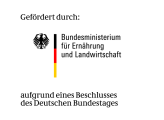 Funding agency
Bundesanstalt für Landwirtschaft und Ernährung (BLE)

Funding framework
Ackerbaustrategie 2035