Our research projects
Photo: Manuel Gutjahr
Project
Title
The effect of subclinical mastitis and mechanical treatment on free fatty acids (FFA) and lipolysis activity in milk.
Coordinating Institute
Leibniz-Institut für Agrartechnik und Bioökonomie e.V. (ATB)
Summary
The study assesses the influence of subclinical mastitis and mechanical milk treatments on milk characteristics. The focus is on changes in milk components and milk main processing aspects. Milk is an important commodity for the nutrition of a vast population on the earth, due to its high nutritional value for human beings. Dairy farming has a predominant and growing economic role worldwide. The increasing demand for milk for the fast growing cheese industry leads to the necessity of intensification of production and improvement of milk quality. Milking is the most important influence on the udder health and milk composition. Machine milking can also contribute to teat damage which in turn increases the susceptibility of mastitis-causing pathogen colonisation. The incorrect settings of milking machine and its management could lead to udder inflammation and mastitis. Elevated FFA levels in milk can impair the flavour quality and shelf life of milk and milk products and thus have implications for the dairy industry. An increase in milk FFA is induced when the protective fat globule membrane is disrupted and the fat exposed to the action of lipoprotein lipase. Induced lipolysis has its origin in mechanical stresses affecting milk, the mechanical stress induced by milking system itself increased the FFA concentration after passing the milking system significantly.
Funding
Deutscher Akademischer Austauschdienst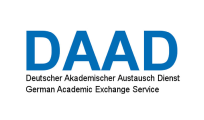 Funding framework
Doctoral Programmes in Germany