Our research projects
Photo: Manuel Gutjahr
Project
Title
Development of a practical data management system with embedded sensors for improved environmental management and transparency of dairy farming
Coordinating Institute
Leibniz-Institut für Agrartechnik und Bioökonomie e.V. (ATB)
Partner
Innvite ApS
MIGAL Galilee Research Institute Ltd Technology Center
Estonian University of Life Sciences
University of Zielona Góra
Aarhus Universität - UA
Wroclaw University of Environmental and Life Sciences
Agilent Technologies
Tokat Gaziosmanpasa Üniversitesi
The Institute of Agricultural Economics Nonprofit Kft.
Oulu University of Applied Sciences Finland
Allocated to research program
Summary
The aim of the project is to extend and validate an existing, relatively inexpensive system for monitoring the climate in the barn and emissions (exemplary for dairy cattle). An app or website is to be used to provide target group-oriented reports on the conditions in the housing system and their effects with a focus on the environment. Based on surveys, these are oriented towards the needs and interests of the different target groups. Data assimilation and aggregation will be done using machine learning and modelling.
Funding
Bundesministerium für Ernährung und Landwirtschaft (BMEL)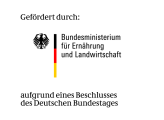 Funding agency
Bundesanstalt für Landwirtschaft und Ernährung (BLE)

Funding framework
COFUND ERA-Net ICT-Agri Food