Our research projects
Photo: Manuel Gutjahr
Project
Title
Veredelung von Nassgrünland-Biomasse zu Plattformchemikalien, Verpackungen, Faserguss und Papier; Teilvorhaben 2: Entwicklung und exemplarische Realisierung von Verfahren zur Gewinnung und Aufbereitung von Faserrohstoffen für den Einsatz im Sektor Pulp & Paper
Coordinating Institute
Ernst-Moritz-Arndt-Universität Greifswald
Coordinator
Franziska Dr. Tanneberger
Partner
Universität Hohenheim
Hochschule Albstadt-Sigmaringen
Allocated to research program
Summary
Conventional agricultural use of peatlands requires their drainage and causes enormous GHG emissions, progressive peatland loss (slumping, decomposition, erosion), biodiversity losses, nutrient discharges and management problems. By raising water levels and implementing paludiculture, GHG emissions can be significantly reduced, further degradation of the peat body can be stopped and thus a significant contribution to climate protection in the field of land use can be made. Further degradation of the peat body can only be prevented by high water levels throughout the year. Permanent use of peatland sites is therefore only possible under wet conditions, i.e. water levels close to the flora. Paludiculture as an alternative use concept for peatland sites enables agricultural use of wet peatland sites through deliberately established permanent crops (cultivated paludiculture) and wet meadow/wet pasture use. The aim of EDELNASS is to analyse different material utilisation pathways of wet grassland biomass from paludiculture of 5 peatland sites in Germany and to investigate them with regard to their applicability in 2 utilisation processes and to evaluate them economically and ecologically. Together with project partners, the Leibniz Institute of Agricultural Engineering and Bioeconomy (ATB) produces fibres from the wet meadow biomass and processes them into papers and fibre mouldings. To this end, various raw materials are produced and physically characterised at the ATB using various processing techniques, and test samples of papers/fibre mouldings are produced and analysed on a pilot plant scale from selected types of raw materials and processing qualities. In addition, practical trials for the production of papers/fibre mouldings are carried out on an industrial scale. In addition, the coupling potentials of material flows of the raw material fractions between the processes are to be investigated by feeding intermediate and by-products of the processes into the respective other processes.
Funding
Bundesministerium für Ernährung und Landwirtschaft (BMEL)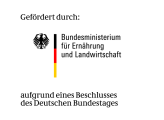 Funding agency
Fachagentur Nachwachsende Rohstoffe e.V.

Funding framework
Förderrichtlinie Moorbodenschutz über die Nutzung von nachwachsenden Rohstoffe aus der Paludikultur - Sondervermögen Klima- und Transformationsfonds