Our research projects
Photo: Manuel Gutjahr
Project
Title
Influence of heat stress on vital parameters and milk yield of dairy cows housed in naturally ventilated barns in different climate zones.
Acronym
Dairy Cow Heat Stress
Coordinating Institute
Leibniz-Institut für Agrartechnik und Bioökonomie e.V. (ATB)
Summary
Heat stress is a central problem in intensive dairy husbandry in moderate, warm and humid climate. The cow's productive parameters are affected by heat stress in naturally ventilated barns. The aim of this trial is to investigate climate parameters in naturally ventilated barns in different climate zones and correlate between individual reactions of dairy cows such as behavior, physiology and production under conditions of heat stress. The data of this study will be divided in two different groups: parameters regarding the buildings and climate zone, and individual animal parameters. The study period will be one year and will cover all four seasons with three weeks monitoring campaign in autumn and winter per season, and six weeks in spring and summer per seasons. Building parameters collected will comprise ambient temperature, relative humidity, velocity, airflow, ventilation. Ambient temperature and relative humidity are used to calculate the temperature humidity index (THI) in buildings. The herd will consist of Holstein dairy cows, milked by a milking robot twice or three times a day. The individual cow parameters comprise vital parameters such as heart rate, heart rate variability, respiratory rate and body temperature. Also, animal production will be measurement as, milk yield, milk composition, and reproduction data. Parameters of feed behavior and veterinary treatments will also be evaluated with regard to heat stress of cows. The THI collected in buildings will be compared statistically with the cow's individual parameters by correlation test. The knowledge of influence of heat stress on physiology, production and behavior in dairy cattle will finally lead to a development of new techniques for livestock adaptation to climate change.
Funding
CAPES/CNPq

Funding
Deutscher Akademischer Austauschdienst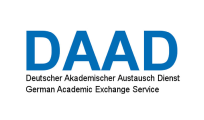 Funding framework
CAPES-DAAD Stipendium