Quality and Safety of Food and Feed
Photo: ATB
Project
Title
Mathematical modelling of fresh produce packaging, storage and supply chain
Coordinating Institute
Leibniz-Institut für Agrartechnik und Bioökonomie e.V. (ATB)
Allocated to research program
Summary
This project aims to make use of the potential of integrative mathematical modeling to provide a comprehensive simulation approach for prediction of fresh produce physiological behavior with storage and packaging conditions. By input the real ambient conditions in the storage, the physiological behavior of fresh produce is predicted along with remaining shelf life, and hence optimization can be made on storage conditions such as temperature, relative humidity, gas composition and ventilation.
Funding
Bundesministerium für Ernährung und Landwirtschaft (BMEL)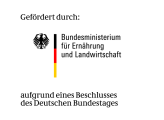 Funding agency
Bundesanstalt für Landwirtschaft und Ernährung - Projektträger

Funding framework
Doktorandenprogramm des BMEL mit der Islamischen Republik Iran - Förderinstrument "Bilateraler Wissenschaftleraustausch"