Precision farming in crop and livestock production
Photo: ATB
Project
Title
Sensorbasierte Fernsteuerung des Wassermanagements und sensorbasierte Überwachung des vegetativen Zustandes gartenbaulicher Kulturen - ein Low Cost System aus integrierten Netzwerkknoten und Kommunikationsnetzen
Coordinating Institute
Telenatura TBE, S.L.
Partner
Universita degli Studi di Palermo
Bilimtek Teknoloji A.S.
Telenatura TBE, S.L.
Allocated to research program
Summary
The focus of ALCIS is the irrigation management of agricultural crops. The goal is to develop a cost-effective sensor-controlled network node system for soil-plant-atmosphere measurements and its integration into an ICT framework that is GIS-based and feeds all information into a Decision Support Tool (DSS). The system will be tested, modeled and evaluated by means of comparative experimental field studies in orchards, gardens and vineyards as well as in olive stands of various European sites. The ATB is involved in various work packages with the focus on the development of the model algorithms for water stress index, yield parameters and irrigation management.
Funding
Bundesministerium für Ernährung und Landwirtschaft (BMEL)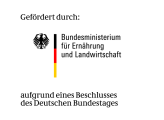 Funding agency
Bundesanstalt für Landwirtschaft und Ernährung - Projektträger

Funding framework
ERA-Net ICT-AGRI