Areas of competence
Photo: Manuel Gutjahr
WG Digital monitoring of animal welfare
Research conducted by the Digital monitoring of animal welfare working group aims to improve animal health and performance as well as working conditions for humans. The aim is to optimise animal husbandry techniques and processes in line with local conditions in order to produce agricultural products that are resource-efficient, environmentally friendly, animal-friendly, of high quality and profitable. Our research results are intended to contribute to strengthening social trust in livestock farming and in the quality of the food produced.
Modern animal husbandry systems have to meet the individual needs of the animals and also enable the livestock farmers to work in an economic and ergonomic efficient manner.
In order to achieve these goals, we address the following issues
the evaluation of housing systems by analysing structural and technical facilities, animal welfare and behaviour as well as physiological and ergonomic parameters,
the development of animal-specific indicators and of automated analysis and control units to enable the detection of specific conditions and processes (e.g. diseases, stress, performance losses),
the application and development of non-invasive sensor technology in lactating dairy cows,
the development of early warning systems and
the digitalisation of livestock farming.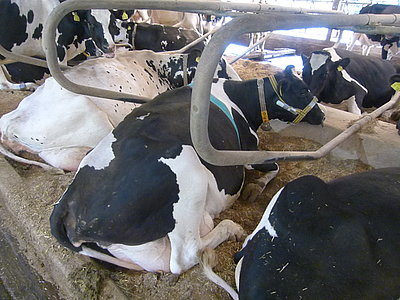 This serves to identify and minimise risks in farm animal husbandry at an early stage. A particular focus is on heat stress assessment. By recording activity and physiological conditions in dairy cows, we can develop innovative indices for heat stress and animal welfare and can quantify how heat stress affects vitality, behaviour and performance.
The "Digital Monitoring of Animal Welfare" WG uses sensor systems to record physiological, ethological and stable-climatic parameters:
► Pedometers (ALT and IceTags / IceQubes) and GPS watches to record the standing, lying and activity behaviour of cows and horses
► Rumen bolus (smaXtec) for measuring the forestomach temperature, animal activity, rumen activity, rumen pH, drinking behaviour in cattle (dairy cattle and fattening)
► Respiration sensor
► Microphone-based measurement of ruminating behaviour
► Measurement of heart rate and heart rate variability
► Video recording and evaluation
► Body condition score measurement system
► Infrared thermal imaging cameras (video-based) incl. software packages
► 3D depth cameras
► Veterinary ultrasound scanner
► Temperature-humidity sensors, ultrasonic anemometer, pyranometer and leaf moisture sensor for recording the barn climate
► Automated data transmission (cloud, data platform)