Our research projects
Photo: Manuel Gutjahr
Project
Title
Systemdienlicher Ausgleich der jahreszeitlichen Schwankungen des Energiebedarfs durch saisonal flexibilisierte Biogaserzeugung am Praxisbeispiel der Nutzung von Extensiv- und Biotopgrünland; Teilvorhaben 3: Gasproduktionsprofile und Prozessanalyse (BioSaiFlex)
Partner
Universität Stuttgart
Universität Hohenheim
Allocated to research program
Summary
The aim of the joint project is to investigate the suitability of cut grass from extensive or biotope grassland (e.g. FFH mowing meadows) for the seasonal flexibilisation (seasonalisation) of biogas plants. For this purpose, during the summer months hardly degradable material is to be used and during the winter months easily convertible substrates are to be used, thus modulating gas production and plant performance. The operating concepts for different landscapes and natural areas will be tested using examples from Baden-Württemberg and Brandenburg and their transfer potentials for other federal states will be determined. The work of the ATB includes - Conception of seasonal flexibility options, - Method of harvesting, processing and storing FFH grass biomass - Process analysis, laboratory tests and simulations of gas formation potential.
Funding
Bundesministerium für Ernährung und Landwirtschaft (BMEL)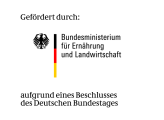 Funding agency
Fachagentur Nachwachsende Rohstoffe e.V. (FNR)

Funding framework
Förderprogramm "Nachwachsende Rohstoffe"; Förderaufruf "Flexibilisierung der Biogaserzeugung"